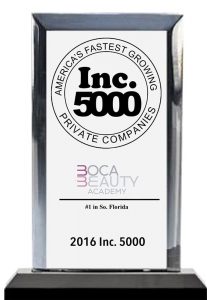 Have you heard? We've expanded. Boca Beauty Academy in rooted in two different locations – Boca Raton and now Parkland/Coral Springs.
Did you know? We're growing. Both as educators and as a business, our school is evolving and offering our students more than ever before.
What's that buzz? A little something called the Inc. 5000 2015: The Full List – a compilation of America's fastest-growing private companies as ranked by the Editors of Inc. Maybe you've heard of it? Oh, and did we mention we made the list?
Between Florida's ranking as the 4th fastest-growing state, Miami's comfy spot nestled among the top 10 fastest-growing metro areas, Education's inclusion in the top 15 rated industries, and Boca Beauty Academy's 3-year growth rate of 132%, it's no wonder so many competent professionals are stemming from our little corner of the country.
Since 1991, we've been helping students morph their dreams into realities. With programs like Cosmetology, Esthetics/Skin Care, Makeup Artistry, Electrolysis, and Paramedical Esthetician (among others), our Boca Raton campus has a focus for every passion. Plus, with the launch of our Parkland/Coral Springs campus comes the addition of sought-after programs like Barbering, Master Fitness Coach, and Personal Fitness Trainer.
We may be growing and reaching new heights, but it's only due to the caliber, determination, and hard work of our students. At Boca Beauty Academy, everything we do is geared toward the success of our grads. That's why we offer things like:
Diplomas, Certifications, and Continuing Education – Whatever classification you need, our programs will train you for success.
Financial Assistance – Through options like scholarships, financial aid, and veterans' educational benefits, we can help you discover your eligibility.
Flexible Schedules – Our full- and part-time schedules include day, evening, and weekend classes so you control where school fits into your busy life.
Job Placement Assistant – Your journey doesn't end at graduation. So, it's only natural that we help you find the opportunity to kick-off the next chapter in your life.
Ours is an exciting, eclectic, and evolutionary industry (much like the South Florida community). From near and far (and even farther with our form I-20 eligibility for international students), dreamers of all backgrounds come together at Boca Beauty Academy with one goal in mind: to create a better future for themselves and for their families.
As the Inc. 5000 calls it, we're a company – and we're in the business of educating talented professionals who are ready to start living with passion and purpose. For more information on how you can begin your next adventure with Boca Beauty Academy, call us at (561) 487-1191 (Boca Raton) or (954) 866-1011 (Parkland/Coral Springs).