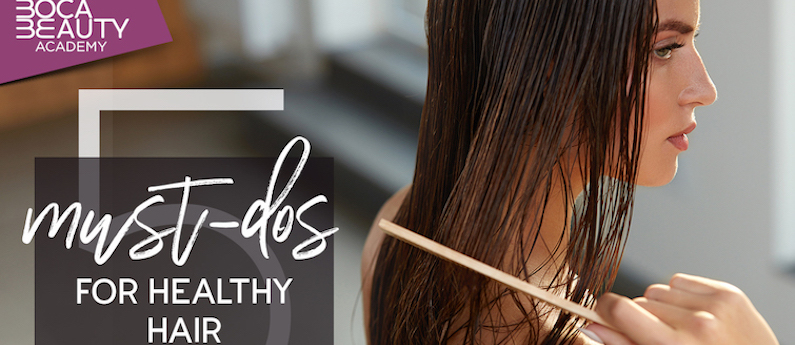 Let's face it, the only thing better than a good hair day, is a bundle of good hair days. Sadly, keeping your hair looking great typically requires the help of a scorching hot flat-iron or blow dryer. Throw in those highlights you cannot live without and your crowning glory can take a real beating! So, how do you keep a bad hair day from turning into a bundle of bad hair days? Don't throw away your flat-irons, folks! We've got some simple tricks that will help you transform your over-worked mop into the healthy, shiny mane you dream of!
Loosen Up
It's especially tempting in the summer heat, to throw your hair up in a ponytail with a trusty elastic band. But tight elastic bands can damage your cuticles and cause breakage. Take it easier on your hair with a good old 90's era cloth scrunchie.
Get a Little Snippy
Get regular snips from your stylist's shears. There are few things that help keep split ends at bay and hair healthy more than regular trims.
Handle with Care
Quite literally, be gentle with your hair. Wet hair is particularly fragile and can break more easily. So, use a wide-tooth comb instead of a brush to untangle wet hair and blot it dry gently with an old t-shirt or a microfiber cloth.
Down and Dirty
Don't take it too literally, but washing your hair too often can sap it of its natural moisture, leaving it dry and prone to frizz. Try going a few days between shampoos and you'll be amazed at how much more manageable your hair is.
Just Chill Out
Well, yes. Relaxing is always a good idea. But in this case, we mean it literally. When you're shampooing, finish by rinsing with cool water to close those cuticles and keep frizz at bay. The same applies to blowing your hair out. Give it a blast of air in the cool setting.
Get your bundle of good hair days by giving your hair the must-have treatment it deserves! And if creating signature styles inspires your inner beauty artist, maybe a career in cosmetology is right for you! To learn more about a career in the exciting world of beauty, check out the cosmetology program at Boca Beauty Academy. With two campus locations to choose from and instructors with real-world experience, Boca can help you blaze your own beautiful trail as a licensed cosmetologist. Call today to schedule a tour or request more information.