Parkland Campus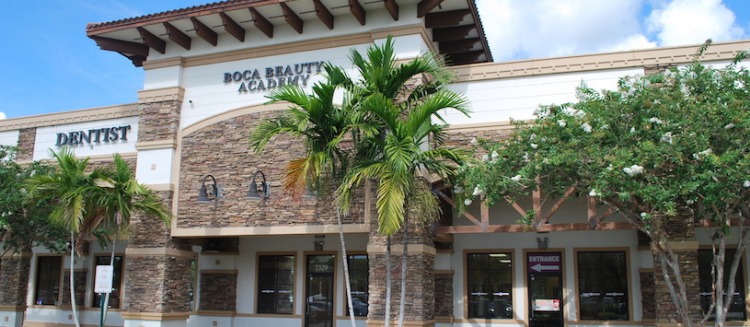 Become a Certified Beautician in Parkland, FL
If you are interested in learning more about the exciting and highly creative world of cosmetology, we have the perfect training program for you! At Boca Beauty Academy, we are Parkland, FL's leading spa and beauty salon school offering a comprehensive range of education courses designed with your future success in mind. Our training programs focus on many different aspects of the beauty and wellness industry, including cosmetology, barbering, massage therapy, skin care, nail design, and much more.
Now is the best time to pursue a rewarding new career in beauty and wellness! Beauty professionals are in high demand all throughout the state of Florida, and the industry is only expected to see additional growth in the years ahead. As a nationally-accredited beautician school, you'll receive a world-class education from tenured experts committed to providing the strong foundation and advanced expertise you need to achieve your goals. Learn more about our beauty and wellness training programs at Boca Beauty Academy and reserve your spot today!
Gain Practical, Hands-On Experience from Industry Pros
Boca Beauty Academy is proud to continue our long tradition of giving aspiring beauticians and wellness professionals everything they need to become certified and successful at the professional level. As a student, you'll gain valuable insight and learn from highly experienced educators. As you progress through your training, you'll be provided with practical, hands-on experience, allowing you to develop your confidence along the way. Apply the tools and techniques you've learned and demonstrate them using real clients under the supervision of your program teacher. With our accelerated education programs, ongoing career support, and active job placement services, you'll be able to earn a certification and launch your new career in less than a year! The beauty and wellness training programs we have to offer at our Parkland campus are:
Full Specialist
If hair design, skincare, nails, and all other areas of beauty pique your interest, our accredited Full Specialist program offers it all!
Barbering
Our Parkland training catalog includes accredited barbering courses highlighting men's hair cutting and design, facial hair treatment, and much more.
Nail Technician
Perfect your ability to perform a variety of modern nail design techniques while in the classroom and in our on-site salon.
Massage Therapy
Our accredited program will equip you with a complete and comprehensive set of skills to become a successful massage therapist.
Holistic Massage Therapy
Learn to perform some of the most effective holistic techniques on real clientele designed to treat the body, mind, and spirit.
Skin Care
Learn to analyze and administer advanced skincare treatments while training in all aspects surrounding esthetics.
Cosmetology
Gain the hands-on training and applied salon experience necessary to become a professional cosmetologist.
Paramedical Esthetician
Train and become qualified and state-certified in laser hair removal, skin care, and electrolysis.
Located in Beautiful Broward County
Our state-of-the-art campus in Parkland is nestled in a cleverly-designed area lined with gorgeous trees native to the Broward County area. With many parks, trails, lakes, and nature centers nearby, we are situated only 10 minutes from Deerfield Beach and only 20 short minutes away from Sawgrass Mills, one of the largest and most luxurious shopping malls in the nation. Parkland is home to many excellent dining and entertainment options, outdoor attractions, and recreational activities to experience no matter how you like to spend your day. Schedule a tour of our Parkland facility today!
Launch Your Exciting New Career Today
Whether you have a question about our cosmetology program, are interested in learning massage therapy, or wondering if you qualify for financial aid, our friendly admissions representatives are standing by to assist you with any questions you may have. For over 30 years, Boca Beauty Academy has provided the generation of today with the world-class training and expert guidance they need to achieve ongoing success in the future. Fill out our easy online application form and get started today – your new career in beauty and wellness awaits.