Boca Raton Campus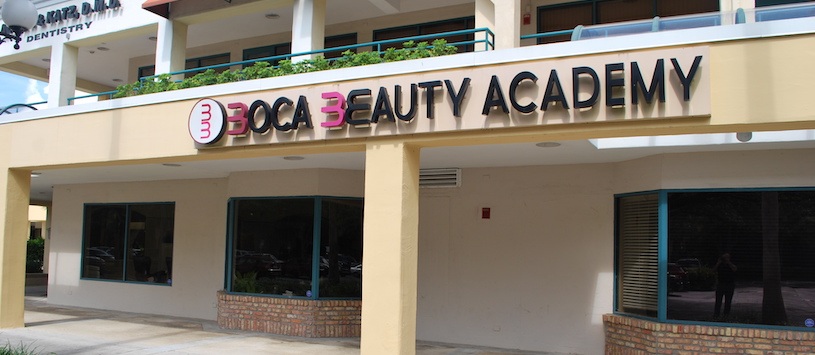 Boca Raton's Premier Beauty Salon School
If you want to become a certified beautician in Boca Raton, FL, look no further than the beauty and wellness training at Boca Beauty Academy, South Florida's leading spa and salon school! We proudly offer a robust variety of specialized cosmetology training programs designed to give you the tools and talent you need to pursue a rewarding new career in the beauty industry. Choose from our complete range of courses dedicated to all aspects of the beauty and wellness industry, including hair design, nail design, makeup and skincare, massage therapy, and much, much more. Learn more about our beauty and wellness training programs in Boca Raton and get your career started today!
Accelerate Your Exciting New Career in Cosmetology
For over 30 years, Boca Beauty Academy has continued to inspire the next generation of beauty professionals with a comprehensive, cutting-edge cosmetology education. Our advanced, hands-on training courses are nationally-accredited, highly sought-after, and proven to equip any aspiring cosmetologist with the strong foundation needed to enter the field with complete confidence! Develop your skills and master tricks of the trade. Gain valuable knowledge and insight from experienced educators. And embrace your individual growth and creative expression as you pave your path toward success in the world of beauty and wellness! The programs we offer at our Boca Raton location are:
Master Hair Design
From theory and concept to hands-on salon experience, you will master every aspect of hair design with world-class training and education.
Skin Care
Step into the ever-expanding world of skincare with training that encompasses the science and practical application of modern skincare and esthetics.
Makeup & Skin Care
Prepare your future for ongoing achievement with an accredited program covering makeup techniques, color theory, skin treatments, and much, much more.
Nail Technician
Master your ability to perform a variety of modern nail design techniques in the classroom and in our on-site salon.
Cosmetology
Channel your inner creativity as you learn what it takes to become an expert in the specialized and highly artistic field of cosmetology.
Full Specialist
Our accredited Full Specialist program covers the full spectrum of beauty and wellness training, including hair, nails, skincare, and holistic health.
Electrolysis
Learn to perform modern, innovative laser hair removal techniques using leading-edge electrolysis tools and technology.
Master Aesthetician
Gain a comprehensive understanding and become a master specialist in the study and practical application of advanced aesthetics.
Paramedical Esthetician
Our paramedical skincare training will equip you with the talent and experience necessary to diagnose and treat patients in a clinical setting.
Holistic Skin Care
Study the science and immerse yourself in the highly specialized application of holistic skin care, the all-natural approach to esthetics.
Located in the Heart of Boca Raton
We are conveniently located on a scenic waterfront right off the Florida Turnpike, just minutes from the oceanfront and I-95. Our beautiful, tree-lined campus is surrounded by some of the most luxurious shopping meccas, fine dining venues, golf courses, and exclusive country clubs South Florida has to offer, including Mizner Park and the Boca Resort. The local area is well-represented by many professional sports teams, with the city situated nearby many elite performing arts centers, including the Raymond Kravis Center and the Broward Center for the Arts. Schedule a tour of our Boca Raton facility today!
Reserve Your Spot Today
Are you ready to earn your cosmetologist, skin care, massage therapy, or esthetician certification in Florida? No matter what piques your interest, we have the perfect beauty school program meant for you! Our training programs encompass the full spectrum of beauty and wellness, where students experience a world-class education and receive ongoing support, such as active job placement services!
There's never been a better time to acquire the skills needed to succeed in the beauty industry. Don't wait! Courses fill up quickly, so reserve your spot soon. Contact our friendly and knowledgeable admissions department with any questions and to request more details. Start your exciting new career and apply online today!