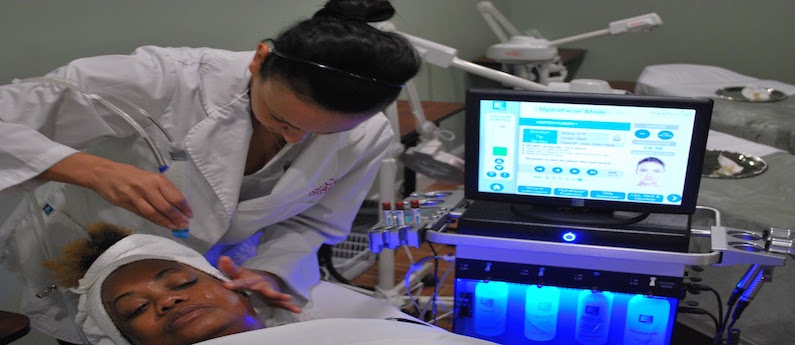 Every job has its perks, but there's nothing quite like being an Esthetician. For those who really want to help people on a deeper level, a career in skin care offers the best of both worlds: you can help clients lead healthier lives while making them look and feel beautiful. Here are just a few reasons why we think you'll love this career choice!
BEST THINGS ABOUT BEING AN ESTHETICIAN?
It Offers Variety
Every client has different needs and concerns; you never know what the day will hold or how many lives you can change. From exfoliations and skin analyses to makeup and facial massages, this job is filled with exciting opportunities to keep you on your toes.
The Payoff is Incredible
You got into this business because the desire to help others is a part of you. Every time you repair skin damage or educate a client on how to prevent future issues, you've made a difference. Each customer who leaves feeling refreshed or reassured is another victory you'll carry with you.
You've Got Options
When searching for a job, you have plenty of choices: work as a service provider in a doctor's office, hospital, salon or spa; become a sales rep; or try your hand in the retail world. You can also choose full- or part-time, commission-based or salary—it's up to you. Choose the pay structure and the schedule that works best for your lifestyle.
You Never Stop Learning
To be successful in any industry, you must always be willing to learn. Fortunately, continuing education is a lot more fun as an Esthetician! And gaining the competitive edge can be just as rewarding as it is interesting. Enroll in a seminar on microdermabrasion, chemical peels or body wrapping and take your career to the next level.
BEST THINGS ABOUT BECOMING AN ESTHETICIAN?
Boca Beauty Academy Offers Flexibility
Job, family or other responsibilities? We've got you covered. We offer day, evening, and Saturday classes to fit every schedule. It's your education. It's your future. So you should have control over when you attend classes!
We're Here to Help
We're all about helping students take the next step toward the life they deserve. Sometimes, circumstances get in the way before you've even started. So we've partnered with the Penn Foster High School Diploma program so anyone can have a chance at a bright future. No diploma or GED? No problem! This program will allow you to learn at your own pace and help you earn the credentials you need to enroll in Boca Beauty Academy.
We're Climbing the Ladder Together
Not to pat our own backs, but we think our school is pretty great—and we're not the only ones. We made the Inc. 5000 2015 list of the fasting-growing private companies and while you're working hard to reach the top, so are we—and we want to succeed together.
You've Got Someone in Your Corner
From pre-registration to post-graduation, we're by your side to help you through this exciting chapter in your life. With a focus on fun, positivity, and encouragement, we're all about supporting our students as they learn the ropes and build a foundation that will carry them forward.
Are you ready for a life in Esthetics/Skin Care? Because we're ready to give you the hands-on training you need to make it happen. Classes begin monthly for newly enrolled students so you still have time to take the first step toward a rewarding career. For more information, call us at (561) 487-1191 (Boca Raton) or (954) 866-1011 (Parkland/Coral Springs). Before you know it, you'll be sharing some of your favorite things!