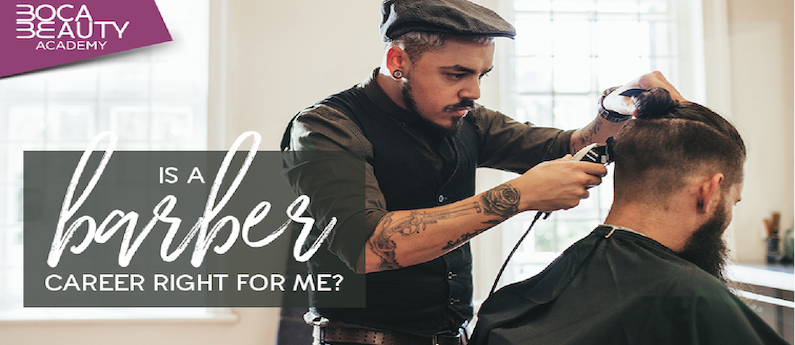 When it comes to choosing a career path, your personality type can be an important factor in your decision-making process. If you've ever been subjected to one of those "personality tests," during school or for a potential job – you may already know what your, so-called "type" is. It's pretty likely that the career you do end up choosing will have a lot to do with whether you're the extroverted type – outgoing (loves interacting with people and is totally comfortable being in a variety of social situations), or an introvert (shy, quiet, likes to keep their thoughts to themselves and doesn't like the spotlight). One particular career path that is a great option for extroverts and introverts alike, is a career in barbering. What? You thought barbers had to be gregarious, social butterflies? On the contrary, barbers literally come in all shapes, sizes, genders, and personality types! Let's take a moment to explore what it takes to join the exciting world of barbering and why you just might want to roll up your sleeves and start changing the world – one perfect fade at a time!
What are the requirements to become a barber?
One of the best things about pursuing a career as a barber is the relatively quick path to licensure compared to other careers. Barbers must be state-licensed and while the criteria for licensing vary from state to state, generally the minimum requirements are as follows:
Minimum age of 16.
Completed a high school diploma or equivalent.
Graduated from a state-licensed barber or cosmetology school program.
Most barber training programs can be completed within 10 – 15 months and include training in clipper and sheer cutting, chemical applications (color, relaxers, perms), hair texturing and styling, beard and mustache shaving and grooming, and fades. Program graduates are prepared for the state board licensing examination, typically consisting of a written and practical skills test.
Do I have what it takes?
Just like we stated above, barbers come in all shapes, sizes, personalities, and genders. In fact, the number of women joining the barbering industry is higher than ever. But there are some important traits that can make a good barber – a great barber!
Listening skills – A great barber doesn't necessarily need to be super chatty or a virtual stand-up comedian, but being an active listener is crucial. Being able to really hear the client and what they want – or just listening to them vent about their crabby boss – might be what brings them back to your chair over and over.
Time management – Managing your schedule efficiently and being able to multi-task is essential when you're a barber. No one wants to wait an extra 45 minutes for their appointment because you over-booked or didn't factor in the time you need to perform a particular service.
Creativity – The world of barbering has become one to watch for its artistic and creative elements. Barber battles and competitions are super exciting and a great way to not only hone your skills but also gain valuable exposure. Being creative and not only keeping up with but creating the hottest and latest trends, is a huge plus.
Physical endurance – You don't have to bench press a Volkswagen to be a barber, but you'll be on your feet for long periods of time so, being in good physical shape helps.
How do I choose a training program?
Choosing a school for your barber training begins with making sure their barbering program is state-approved. But you'll also want to select an accredited program that suits your lifestyle. That's why Boca Beauty Academy is a great choice if you're looking for the perfect place to get your barber training. Boca has been helping students prepare for successful barbering careers for over 17 years in Florida and not only offers flexible schedules to suit just about any lifestyle but is also accredited by the American Association of Cosmetology Schools (AACS). Call Boca Beauty Academy now to learn more about an exciting career in barbering or schedule a tour of our beautiful, waterfront campus. The difference between a dream and a plan is simple and comes down to one word – action! Turn your dream of a successful career into a plan and contact Boca today.