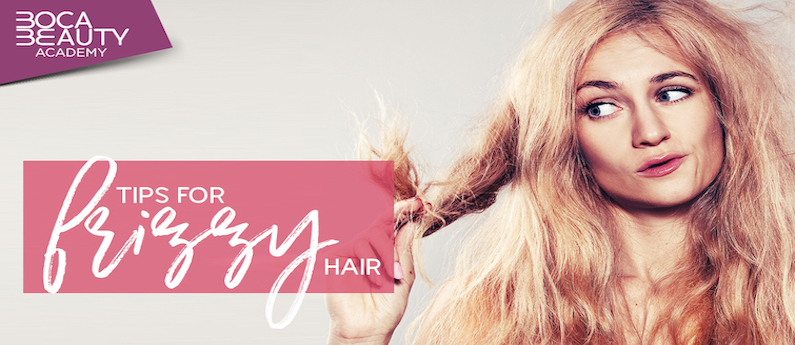 For those of us "blessed" with hair that is more Lion King than Little Mermaid, summer heat and humidity bring the battle of the frizz into full throttle mode.  Yes, taming those tendrils of frizz can really put a damper on your summer fun. Literally… the damper it is, the frizzier your hair. What can an unfortunately frizzed out fan of summer do, to manage that unruly mane? We've got some great tips to get that tangled mess under control and help you win the war on frizz!
Take it easy with the towel – Try to avoid vigorously drying your hair with an ordinary cotton towel. It can damage the cuticles around each strand of your hair and results in breakage and frizz. Use a microfiber towel like the ones you use to wash your car and take it easy on those locks! You wouldn't use a plain old towel on your ride would you?
Treat it right with a trim – It's a fact that not getting regular trims leads to split ends which are the building blocks of frizz. Keep your end trimmed and your hair will be smoother and more frizz-proof.
Give it a rest – From damaging heat. We know. It's nearly impossible to imagine not using that super-hot flat iron or blow dryer to tame the frizz. But let your hair air dry whenever possible to give it a rest from the damage hot tools can cause over time.
High-quality help – Investing in a good anti-humidity spray, anti-frizz serum or a heat protection spray high quality products can help you prevent damage from the heat of the flat iron and the humidity of summer.  If your hair is oily, choose an oil free hair serum to avoid the oil slick look.
Get to the root of the problem – When you blow dry your hair, be sure not to leave your roots damp and dry your hair until there is literally – an absence of dampness. Like – none. The second damp hair hits humidity, it's game on for frizz. And point the blow dryer downward to avoid wreaking havoc on your cuticles by going against the grain.
A cool blast – Stylists use this trick on the regular to combat frizz when they are doing a blow out. As you dry each section of hair, finish it with a cool blast of air to eliminate frizz and set your style.
Speaking of cool – Give your hair a final cool rinse after shampooing to close those cuticles and eliminate potential frizz during blow drying. You'll be astonished at the results!
Many bad hair days can be prevented with an ounce of preparation (and a dab of good hair product.) Are you a fan of all things hair? If so, maybe a career in cosmetology is right for you! Check out the Cosmetology Program at Boca Beauty Academy. Students at Boca are loving the hands-on training and supportive instructors. And with flexible schedules to suit just about any lifestyle, Boca Beauty Academy is helping launch the careers of so many talented cosmetologists! Call Boca today to learn more or to schedule a tour of our campus. Are you ready for a beautiful future?