Keeping Skin Health in the Forefront of Education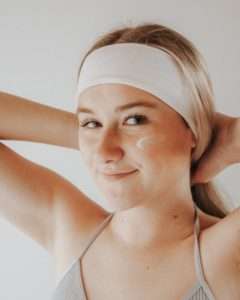 Can you feel it? The air is getting warmer and the UV index is getting higher, which means it's time to adjust your makeup and skin care routine. In most places, summer means longer days under the sun and potentially hot, humid, or dry weather. Because the weather directly affects your skin, which is the largest organ in your body, it's imperative that you modify your routine to keep your skin healthy, glowing, and safe from harmful UV rays.
Whether you choose to pursue a career as a Paramedical Esthetician, Master Aesthetician or our holistic and traditional Skin Care programs, Boca Beauty Academy students are fully educated on all of the negative and positive effects of sun exposure and the latest treatments for anti-aging, sun damage and maintaining the health of your skin.
Here are a few tips on how to beat the summer sun:
Rule Number One: SPF
The American Dermatology Association recommends using an SPF of 30 or higher, and searching for a sunscreen that uses the label "broad spectrum." Broad spectrum means the lotion protects against both UVA and UVB rays. UVA rays are the rays that prematurely age your skin, causing wrinkles and age spots, while UVB rays cause sunburn. Overexposure to both can lead to freckles, age spots, melasma (hyperpigmentation) and skin cancer. Reapply your SPF often, and include your lips by applying a lip balm that contains broad spectrum SPF in it. Today there are many products beyond sunscreen and sunblock that contain the same protection including makeup foundation, moisturizing lotions and even apparel.
Don't Stop Moisturizing, But Rethink Your Product
Even if your skin gets a little more oily during the warmer months, you should not stop moisturizing. Instead, adopt a multi-faceted moisturizer that is lightweight, non-scented, and includes SPF. It's important to choose a lightweight product because heavier moisturizers can clog pores and cause inflammation or acne, especially in the summertime.
"Moisturizers reestablish the stratum corneum, your outermost layer of the skin, which protects from harmful pollutants and chemicals and prevents further irritation or dryness," says Ariel Ostad, a board-certified dermatologist and dermatologic surgeon. So don't forgo the extra moisture, instead, be sure to replenish your skin with the right product.
Lighten Up Your Makeup Routine
It's the season for letting your skin breathe. During summer, wearing heavy makeup can feel like an unnecessary extra layer. You can elect to use either an SPF-infused tinted moisturizer or lighter weight foundation in lieu of a full coverage foundation. Heavy makeup tends to clog pores and could potentially cause dry skin, acne, flaky skin, or more unwanted side effects.
Pro tip: Invest in makeup that is non-comedogenic, which means it's less likely to clog pores. A lightweight, non-clogging option is SPF powders, however, keep in mind the need to ensure full coverage and reapplying often, especially when outdoors, for uncompromised protection all day long.
Keep Exfoliating
Your skin will need to be reset after the sweat, SPF, and oil begin to take over. Sunscreen is important, and sweat is the body's natural way of cooling off, but both can clog pores if you're not washing and exfoliating your skin properly at the end of the day.
Exfoliating 1-2 times per week helps to unclog pores and reduce blemishes, and it essentially wipes the day away. However, it's best to not exfoliate if you're sunburned, and it's recommended by dermatologists that you don't over-exfoliate, especially if you have dry skin.
Two categories of products to avoid when exfoliating: brushes and pads that are designed for repeat use as they accumulate bacteria over time and can lead to skin infections and acne. Also, avoid gels and creams with microbeads that may be bad for the environment and have been banned in many countries. Opt instead for microbead and plastic-free options, or natural products with biodegradable alternatives to microbeads.
Love Your Skin
Healthy skin care practices should start at infancy to protect from sun damage, maintain elasticity, and minimize wrinkles and acne over time. Start early! Choose sunblock and sunscreen that contain zero Oxybenzone, Octinoxate, Avobenzone or Retinyl Palmitate (Retinyl is a form of Vitamin A and has great benefits, however, when exposed to the sun it can lead to skin cancer).
Add a little Vitamin C serum to your regimen to help reverse damage and firm skin, minimize pores, fade dark spots, soften fine lines and wrinkles.
Want that healthy tan? In the summer or year-round, if you are seeking healthy ways to sport a tan on your face or body, (skip the tanning beds) and opt for bronzers or self-tanning sprays and lotions to give you that healthy golden glow.
To learn more about Boca Beauty Academy's skincare, makeup and aesthetician programs, visit www.bocabeautyacademy.com.
………………………………………………………………
Boca Beauty Academy is Florida's preeminent, nationally accredited beauty and wellness academy offering programs in cosmetology, makeup artistry, nail technician, skin care, massage therapy, holistic massage or skincare, paramedical esthetician, and electrolysis. Students are supported with job placement and financial aid assistance. To learn more or arrange a tour of our two campuses, call Boca Raton 561-487-1191 | Parkland 954-866-1011.