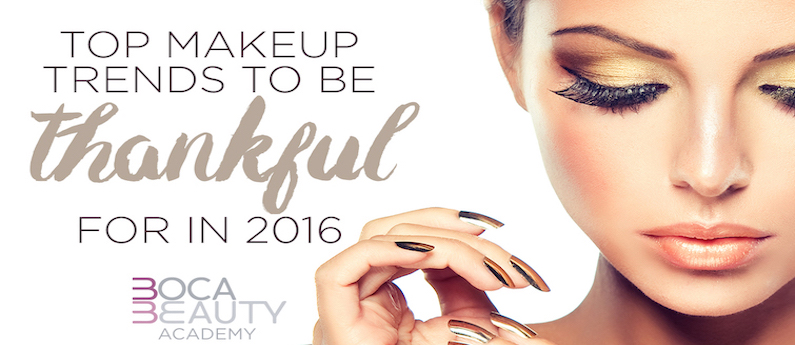 Say goodbye to the exaggerated cotton candy blue hair… the dark, over painted eyebrows, the thickly applied mask-like foundation and the overly plumped up lips of trends past. Thankfully, 2016 brought cool new and classic styles for trend seekers everywhere to choose from! The theme is classic. Everything old is new again really is the mantra for 2016's make-up leanings. Check out some of dazzling options to give thanks for as we watch 2016 wind down.
Au natural with a kick – For a circa 1970's look, we love the carefully placed faux freckles, paired with clumpy, dramatic black mascara. With toned-down lips and barely there foundation, this fun and flirty style is a welcome change. Seeing nothing but red – Wearing nothing but perfectly applied cherry red lipstick is a new and old fave! Even though it's a hot color, crimson lips seem cooler against a blank canvas and make a bold statement.  For those lurking in the shadows of the latest eye shadow craze, consider: Metallic mania -Smudgy, silver metallic shadow on the lids, highlighted by black liner on the outer half of the upper and lower lid steers away from space-age and channels your inner pouty, sex-kitten. Blazing sunsets – The warm glow of sunset orange shadow is more hot than warm and can be applied in even bolder shades on darker complexions.  Glitter me this – sparkly glitter anchored with thick liner is an insanely fun look that doesn't look actually insane!  Pot of gold – nothing is as good as gold? Well, gold eye shadow is grabbing attention all over the globe for it's Parisian feel and opulent style. Grab a super shimmery liner to complete the look. Coolly abstract – Smudge a matte white pigment across the eyes and skip the mascara and curl your lashes for this icy, abstract look. Simple, yet edgy, this style is practically transcendent.
It's a brave new world of re-invented classics that make us grateful for the fashionistas and trendsetters out there keeping looks fresh and styles hot! Have you always wanted to be one of the elite beauty professionals boldly introducing the next big thing? Boca Beauty Academy is helping students do just that with exciting programs in Cosmetology, Makeup and Skincare , and Esthetics with two beautiful locations in Palm Beach County and Broward County! Our instructors share real world experience and are here to help you every step of the way on the path to your future in the exciting world of beauty! Don't wait one more day to call Boca Beauty Academy! Call 561-487-1191 (Palm Beach County) or 954-866-1011 (Broward County) today to learn more or to schedule a tour at one of these beautiful campuses.