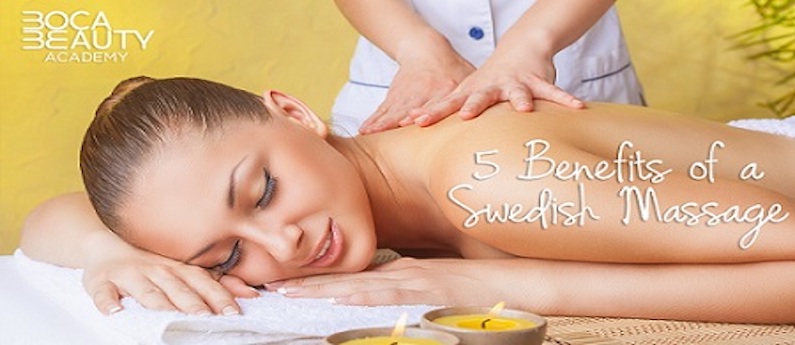 5 Benefits of a Swedish Massage

It's no secret that people love getting massages. Aside from the calming effects that are easily recognizable, there are plenty of other things happening behind the scenes that we don't even realize. Here are just some of the reasons why Swedish massage is great for the body and the soul.
1.  Spoiler Alert: It's Relaxing
Stepping into a dimly lit room with relaxing music can instantly send anyone to their happy place. The combination of soothing ambiance and repetitive motions work together to calm the body and the mind. It gives patients an opportunity to slow down from their busy lives and just focus on breathing. But it's not just the atmosphere that does it; the art of Swedish massage also relaxes the entire body giving it a chance to rest and restore itself.
2.  Proven to Increase Oxygen in the Blood
Swedish massage helps to increase the level of oxygen in a patient's blood. While we all know oxygen is vital to our bodies, it's not always commonly understood how lower levels can affect us in different ways. For example, research has shown that oxygen-deprived cells are the primary cause of cancer. So flip the switch on your worries for an hour and enjoy a relaxing massage while boosting the oxygen in your blood.
3.  Great Way to Reduce Stress
Our lives are hectic. We work, raise families, cook, clean, budget, pay bills, handle responsibilities, drive, plan, worry… all while trying to carve out a little time here and there for ourselves. It's no wonder our culture suffers from chronic illnesses. But Swedish massage serves as a fantastic stress reliever. When you put in a 40-hour work week with maybe 5 hours of drive time per week and an average of 7 hours of sleep each night, that kink in your neck makes perfect sense. But enjoying a 60-minute massage can do more to reduce your stress than you might imagine. In fact, one study has even shown a link between regular Swedish massages and a reduction in cortisol—the stress hormone.
4.  It Offers the Ups and Downs Your Body Needs
Massage has long been a form of therapy for injuries and chronic pain. Swedish massage is often sought out for its healing properties to ease pain and tension in the muscles. And while it helps to reduce the feelings you don't want (like anxiety and depression), it also targets and improves the ones you do—like increased circulation and flexibility.
5.  It Helps to Prevent Injuries
The various strokes and movements of Swedish massage help the body flush out toxins. This keeps the muscles healthy and works as prevention against fatigue. It's also known to relax muscle spasms and boost the immune system. In fact, as an added form of injury prevention, many athletes incorporate regular massages into their lives as a way to relieve tension, stress, and anxiety prior to an event.
If you're more interested in delivering these benefits to patients than receiving them yourself, a career as a Massage Therapist might be for you. And Boca Beauty Academy could be the perfect fit. Our Massage Therapy program offers the training, flexibility, and experience you need to get started in this amazing career. For more information, call us at (561) 487-1191 (Boca Raton) or (954) 866-1011 (Parkland/Coral Springs) today.