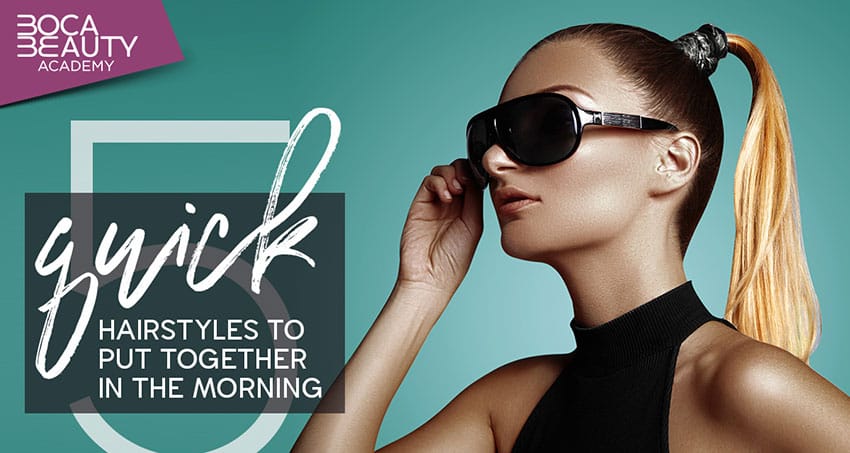 Navigating daily life in today's hyper-fast-paced world can leave you feeling like it's just another manic Monday… every day of the week. Let's face it… for most of us, a good portion of our morning routine is spent coaxing our hair into some semblance of order. Finding some quick and easy styles to tame your crowning glory can be the difference between a mad dash out the door and scoring a few extra minutes to grab that precious cup of coffee! Go from mayhem to mellow with these 5 quick and easy hairstyles:
Not your average knot – If your hair is all one length, this is an easy way to pull off an elegant look. Pull all your hair into a low ponytail and secure it with an elastic band. Then, divide your pony into two equal sections in the back and, literally, tie it in a knot. Loop the leftover hair around your knot and secure it with a few bobby pins.
When all else fails, scarf it down – Who doesn't love a Breakfast at Tiffany's vintage look? If you just can't tame the beast, capture it instead! Use a colorful silk scarf to wind around your hair and tie it in the back letting the length flow down your back. Or for a more contained look, wrap up your hair in the back and tie the scarf in a small knot on top of your head above your bangs.
Gift wrapped and gorgeous – Sure, you can use a ribbon or bow as a quick accessory to hold your hair in place. But why not use what you got? Gather equal strands of hair on either side of your face and pull them directly back and tie them together in a snug bow, just like you would tie a shoelace or a ribbon. This quick and easy style is pretty and practical for medium to long hair.
I'd like mine with a twist – Using a fine comb, separate your hair at the center front part of your hairline into a small triangle that extends to the middle of your crown. Pull the hair down the center of your face, twisting it, then flip it up and over, securing it to the crown with bobby pins and letting length drape down the back of your head. So easy and elegant!
Get on your high horse – For ultimate ease of application, you can't go wrong with the classic high ponytail. This sporty look can also go boardroom-ready. Just slick back the hair with a mousse or gel for a sleek, polished look.
Managing your hair shouldn't be a harrowing experience, so de-stress the way your day starts and give these quick-dos a try! Have you always loved reinventing your style? Or – maybe your collection of hair products is bigger than all of your friends combined? If this sounds familiar, then a career in cosmetology might be right for you! Intrigued? Good! Then you should check out the Cosmetology Program at Boca Beauty Academy! Boca is helping students get the training and skills they need to launch successful careers in the exciting world of beauty. Call Boca Beauty Academy today to learn more, or to schedule a tour of our campus.