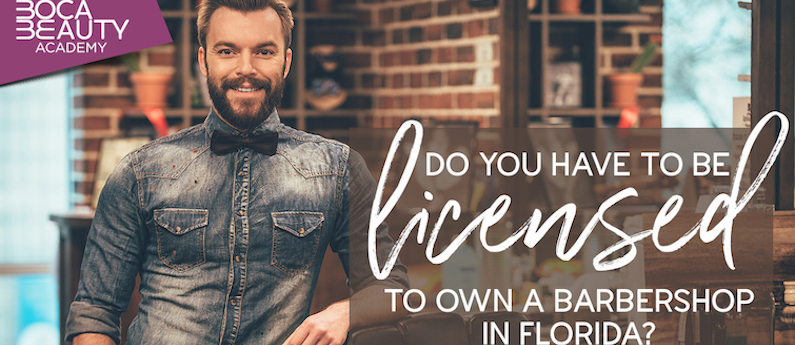 Do you have to be licensed to own a Barbershop in Florida?
There are some careers that just seem ideal for those "people-person" types. You know – the folks who thrive on interacting with people from all walks of life. And within that group, there are some with a real talent for conversation and others who prefer to listen quietly, rather than chat up the masses. Whichever type you are, the one career that's a great fit for "people-people" is the professional barber. After all, in an average week, a barber often sees dozens of different people from very diverse backgrounds. That can make for a very interesting work week, where boredom isn't likely to be an issue. So, how do you become a barber and open a barbershop in Florida? We've rounded up the information you need to join the talented professionals out there shaping their communities and the heads in them… one haircut at a time.
Florida Barber Licensing Requirements
To become a barber in Florida, you must first complete a state-approved Barbering Program. The Florida Barber's Board requires a minimum of 1,200 hours of barber training for a program to qualify. After graduating from an approved program, the next step is to apply for a Florida Barber License from the Department of Business & Professional Regulation (DBPR). The application can be submitted online through their website – http://myfloridalicense.com. The next step is to schedule the state barber examination through Pearson VUE, the testing center that administers the exam. Upon passing the exam, your new barber license will be mailed to you.
Opening a Barbershop in Florida
If you're looking to take your barbering career to a whole new level by opening your own shop, you must first have a barber's license. There are a number of safety and sanitary requirements for opening your own barbershop and obtaining a license. Your shop will need to be inspected by the state of Florida. For example, your barbershop must have at least one shampoo bowl with hot and cold water and must contain a minimum of 100 square feet, excluding the bathroom. You can find a detailed breakdown of all the requirements by clicking this link.
The desire to look good is as old as the barbering profession itself. That makes becoming a barber a solid career choice that could put you on the path to success by doing what you love for a living! If you'd like to explore a future in the barbering industry, check out the barbering program at Boca Beauty Academy. With a team of experienced instructors and flexible schedules for just about any busy lifestyle, Boca is training the next generation of talented barbers. Contact us today to learn more or to schedule a tour of our campus.