The beauty industry is one of the most evolutionary professions with new style trends and procedures for hair, skin and nails as well as groundbreaking treatments in massage and skincare. What has always remained a constant in beauty education, is learning the essential methods for cleaning and sterilization in order to maintain a clean and healthy environment for employees and clients.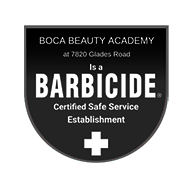 In 2020, those methods came to the forefront of our industry as spas and salons were forced to shut down throughout America and the world. The COVID-19 pandemic instigated reformed protocols that greatly reduce exposure to viruses and bacteria, known as Barbicide Certification.
At the onset of the pandemic, the leadership and educators at Boca Beauty Academy set forth to make our academy a safe environment for students and faculty, and to educate on best practices within their fields of study.
Today, Boca Beauty Academy has the unique distinction of being the only Institutionally Certified establishment accredited by Barbicide – the world's foremost leader in disinfection chemicals.
As part of the academy's certification, Boca Beauty has incorporated Barbicide's safe service course to educate and certify our staff, educators and students on cleaning, proper use of chemicals, safe operations, and the CDC's requirements.
What does the Barbicide Safe Service Establishment Certification require?
Infection Controls
Proper Use & Handling of Chemicals
Equipment & Installations for a Healthy Environment
Cleaning Protocols (Personal and Environmental)
Sterilization Techniques
Use of Masks & Protective Guards
Safe Practices for Client Treatment and Interaction
Use of Disposable Materials
and more…
The Barbicide Institutional Certification was developed by a team of beauty industry and medical professionals educate our next generation on how to safeguard against infection, and the transmission of viruses.
………………………………………………………………
Boca Beauty Academy is Florida's preeminent, nationally accredited beauty and wellness academy offering programs in cosmetology, makeup artistry, nail technician, skin care, massage therapy, holistic massage or skincare, paramedical esthetician, and electrolysis. Students are supported with job placement and financial aid assistance.  To learn more or arrange a tour of our two campuses, call Boca Raton 561-487-1191 | Parkland 954-866-1011.