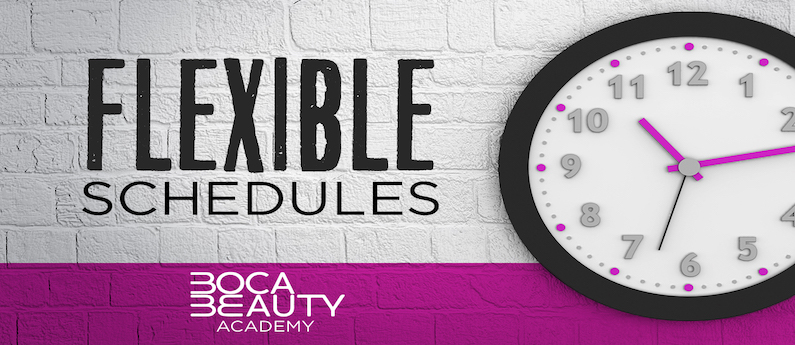 Think you have no time for school?  It's true that time is the one thing there never seems to be enough of in today's busy world. Rushing from one activity to the next, it's hard to envision squeezing in one more thing. Consider this though – the value of a great education is often in the potential freedom that will come later as you put your education and the skills you acquired to good use. It doesn't mean the rat race gets any less, well, rattier. But people who are doing what they love and always dreamed of doing are typically happier people and happy people, well, maybe they enjoy their own personal rat race a bit more.
Whether you're a single mom with a full time job or a married dad with 2 jobs, it is important to have a long term vision of what you want for your future and then go for it! We can help! At Boca Beauty Academy, we're focused on helping students navigate the path to their future by making sure we offer all the flexible options necessary to accommodate the schedules of as many students as possible, no matter what their lifestyle is!
So, you can do this! With classes that begin monthly for newly enrolled students, there is always a fresh opportunity to jump in and get started on your education. Our team of admissions specialists are standing by to help you find just the right option for your busy life! Contact Boca Beauty Academy today to learn more about all the programs we offer or fill out the online contact form and we'll contact you! Don't wait another day to achieve your dream of a career in the exciting world of beauty.