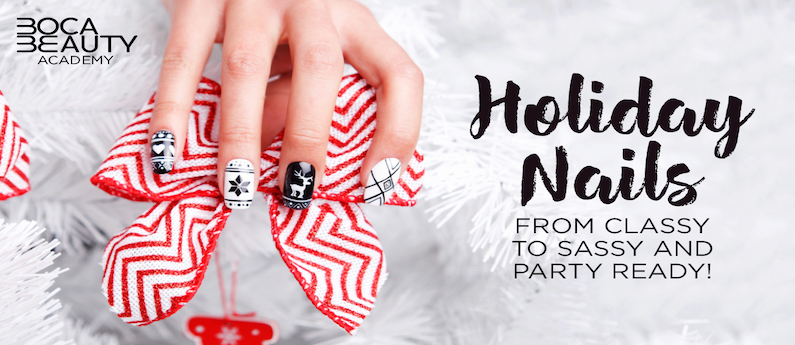 So many nail polishes, so few fingernails! So true. Your fingernails speak to your style without you having to utter a word and are an essential part of an overall look these days. Particularly during the holidays. If your day nails are typically subdued and understated, a holiday party is a great time to jazz up your nails for an extra special accessory this season! Check out these fabulous styles and take your nails from classy to sassy!
Not so ugly sweater – This pretty Nordic style of white snowflakes and reindeer on a red and blue pallet that channels your prettiest holiday sweater is fun and festive. If your hand is steady, try hand painting this design or use tiny, pre-made decals.
Just let it snow – Nothing is prettier or more unique than a snowflake!  On a sparkly red polish, a few carefully placed snowflakes will have you looking very fa-la- la-la-la indeed! Holiday-themed appliques are perfect here and make this an easy style to pull off.
Silver and gold – What's not to love about both? If you are looking for a style that is more festive than traditional, mix it up a bit and paint one hand in shiny metallic silver and the other in shiny metallic gold! After all, silver and gold go with everything!
Gift wrapped – Start with a clear base coat for this look and apply alternating strips of metallic nail tape and seal with a topcoat. Reminiscent of elegant curls of brightly colored ribbon candy or wrapping paper, these truly unforgettable holiday nails will go with anything!
Stained glass – For an irreverent take on a reverent symbol, add a nail or two in a stained glass pattern. A nail stencil is helpful here to draw an intricate design accompanied perhaps, by a tiny star decal.
Whether you choose your nail style to match your holiday outfit or your outfit to match your holiday nails, there are tons of sweet and sassy styles to choose from to nail the perfect look this season!  If you love creating funky and fabulous looks and have an artistic flair, maybe a career in the exciting world of beauty is right for you! Boca Beauty Academy's Nail Technology is helping students achieve their dream of an exciting career in the growing beauty industry. Contact us today to learn more about how you can join the Boca Beauty Academy family and create a beautiful future of your own!