Let's talk skincare. Skin Care Specialists, also known as estheticians, correct past damage done to the skin and work to correct future problems. At Boca Beauty Academy, we offer multiple programs for aspiring estheticians and specialists that are passionate about skin health and antiaging. And while we believe that proper skin care should be practiced daily on your own, it's also important to lean on the professionals to maintain your skin's health and elasticity.
Our instructor-led on-campus spa offers a variety of skincare treatments where our students perform the latest treatments including masks, peels, and more to uncover radiantly healthy skin. You can review our spa and salon services here.
Like many people in recent years, skincare has become one of the top priorities in our anti-aging regimen and overall wellness journey. But where does one start if they're just beginning to practice proper skincare?
Here are a few emerging trends of 2022 that you can add to your skincare routine to give your skin that healthy glow, in addition to regular visits to your esthetician.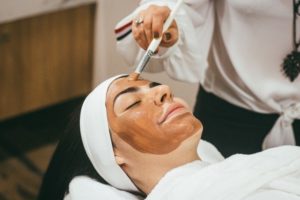 Sunscreen
That's right, sunscreen. While we've heard in recent years the ongoing pleas from skincare experts to add sunscreen to our facial routines, it's recently become a blanket statement in all conversations involving skincare. The benefits of protecting your face are undeniable: anti-aging, anti-wrinkling, and protects you from harmful UV rays that could lead to an increased risk of skin cancer. And while some people love that warm glow on their face, there are a plethora of self-tanning products out there that will give you the sun-kissed tint you love without the risk. Beauty bloggers, celebrities, and estheticians alike have worked hard to make sure this trend remains at the forefront of everyone's mind when they think about skin health.
Holistic Skin Care
We offer two intensive programs at Boca Beauty Academy for aspiring estheticians to choose from. The original Master Esthetician program takes students through the full breadth of treatments and modalities that have been honed over the centuries. Many of the most popular treatments of today include Oxygen-Infused Facials, Microneedling, Dermaplaning and Body Sculpting.
In 2019, Boca Beauty Academy expanded to meet the demands of today's consumers, by creating a Holistic Skin Care Program that involves natural, organic and holistic products and treatments. The increase in holistic treatments is a result of the public's growing interest in alternative health and what they're putting into their body. Holistic skincare uses practices like exfoliation, facials, and facial massages, paired with natural skin and makeup brands as well as remedies like hemp and CBD.
For both traditional and holistic skin care, students advise clients on the importance of a healthy diet and proper nutrition to improve skin tone and texture from the inside and out.
Cryotherapy
Cryotherapy is a technique where the body or select regions such as the face, are exposed to cold temperatures for short time segments. You can use tools for this process, such as ice globes or other freezing tools.
In addition to temporary pore-shrinking, cryotherapy has been known to increase blood flow and oxygen to the face, which can give skin that "glow." The rush of blood and oxygen to the face can also de-puff the skin and make your face look less swollen.
Apart from these trends, seeing a Skin Care Specialist is always recommended, to help implement a routine that's customized to your individual needs.
Interested in being on the other side of skincare?
The Master Aesthetician program is a 24-week program, the traditional Skin Care program lasts 10 weeks, and the Holistic Skin Care program runs 13 weeks. We also offer a Paramedical Esthetician program which focuses on correction more than cosmetic (read our blog for more details). At Boca Beauty Academy, our instructors will provide you with the hands-on training, practical spa experience, and specialized knowledge it takes to pursue a successful career as an Esthetician. As a student in this program, you will learn the important techniques and skills needed to become a successful skincare professional.
Here's a snapshot of what you'll learn in Boca Beauty Academy's Skin Care programs:
Skin analysis
Customized facials
Facial massage with alternative massage techniques
Hair removal
Exfoliation
Makeup artistry
Facial machines
Diet & Nutrition
Herbal Therapies
The science of product ingredients
It's time to love the skin you're in, and if you feel that skincare is a passion of yours, you can help others love their skin, too. Click here to learn more.
………………………………………………………………
Boca Beauty Academy is Florida's preeminent, nationally accredited beauty and wellness academy offering programs in cosmetology, makeup artistry, nail technician, skin care, massage therapy, holistic massage or skincare, paramedical esthetician, and electrolysis. Students are supported with job placement and financial aid assistance.  To learn more or arrange a tour of our two campuses, call Boca Raton 561-487-1191 | Parkland 954-866-1011.