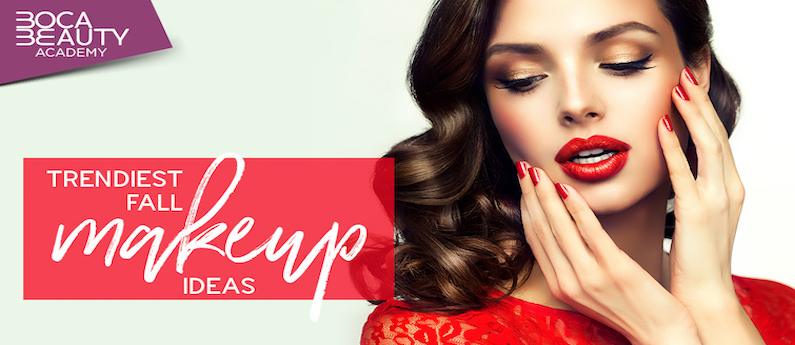 Put away the tinted lip gloss and neon eye-shadow of summer and get ready to change it up as we begin the descent toward the holiday season and another year in the rearview mirror. If you're struggling to say goodbye all things summer – chin up! After all, who doesn't love pumpkin-spiced dreams and crisp autumn air? Well, even if you're not a fan – you'll still sure to be inspired by the fabulous faces of fall this year. Check out some of hottest makeup trends making the rounds this fall.
A rose by any other name – Dusty, rose pink is making a splash this fall and it's showing up on eyes, cheeks and lips in equal measure. It works especially well on all three at once for a super feminine, soft look that begs to be seen.
What a gem – Or should we say, gems. Accenting bold eyeshadow with tiny gems placed at the inside or outside corners of your eyes, in even bolder colors – is positively perfection and will have all eyes on you this fall. If you want to forego the eyeshadow altogether, that works too! And you can mix it up with rhinestones or sequins applied in the pattern of your choice!
A certain shimmer – Jewel tones are a yes – and on the eyes. This fall is loving deep, glossy shadow in sultry shades of royal purple that extends down to the inner corner and shimmers. A great way to achieve a super shimmery look is to use a cheek and eye gloss rather than just powdery shadow.
Looking for something in red – It's true that a bold red lip never really goes out of style, regardless of the season! Whether you want is matte-smooth or super-glossy, bright red lip color is a hit.
Down to earth tones – Fall does seem like the perfect season for rich, earthy shades of taupe, caramel or golden brown. Try blending contrasting shades of matte eye-shadow for a meltingly warm, toasty look.
You don't really need an excuse to change up your look or to try a hot new style. But when the season changes, it just feels right to change right along with it! So, get out there and crunch some leaves under your feet with a fun fall look that says you're ready for anything! If you've always had a knack for reinventing your look – maybe you should consider taking that knack to the next level with a career in cosmetology! Intrigued? Well, then check out the cosmetology program at Boca Beauty Academy! Boca Beauty Academy is helping students get the hands-on training skills they need to join the exciting world of beauty. With flexible schedules and a team of supportive instructors who share their real-word experience with you, Boca can help you blaze your trail too! Call Boca Beauty Academy today to learn more or to schedule a tour of our campus! After all, doing something you love for a living sounds pretty good, doesn't it?