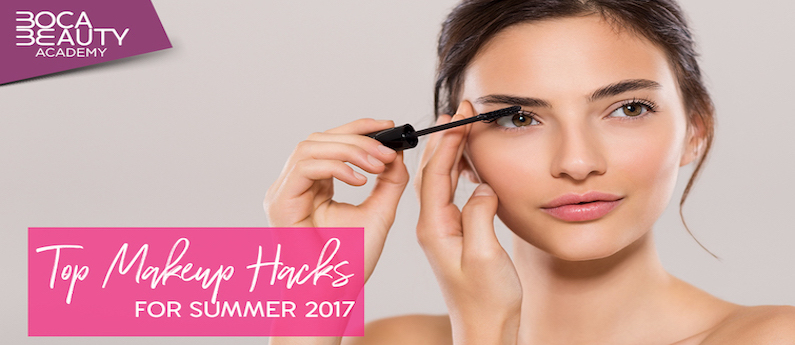 Money can't buy happiness, but fortunately for those of us who enjoy a little contouring and some help making that inner beauty rise to the surface, there is the gift of make up! For people all around the world, make up has delivered endless techniques and methods for enhancing what you were born with and making it even better! Taught, tweaked, and remastered throughout the years, the sheer beauty of the confidence really good makeup can give you is priceless! Check out some of our favorite make up hacks for this summer season –
Ice-Ice Baby – Beat back the summer heat and grab an ice cube out of your freezer. Before you apply your make up rub the ice cube over your face to help close your pores and minimize any redness, replacing it with radiant, glowing skin that will last through the long summer night night.
Turn up the volume – Who doesn't love the voluptuous look of totally lush lashes? Mascara can be the just the thing that gives you a heart-melting stare. Try dunking the tip of your mascara wand in a little baby powder to turn up the volume for your lashes. To prevent flaking and to keep your lashes looking luscious longer, you can also spritz them with a setting spray after applying mascara.
Test Drive Your Foundation – Don't guess when it comes to choosing the right foundation for your complexion. Test the shade by applying a dab to your neck rather than the wrist or forearm. Your neck's skin tone is going to match your face far better so this is the best way to choose the correct shade for your skin tone.
Flip the Tip – Before you give up on that dried out eyeliner that has been giving out on you try this. Pull the worn out tip out and flip it around and voila! You have extended the life of your eyeliner!
Bathroom Blotter – If you're out on the town and you feel your skin is becoming oily and you need to blot it, don't panic. Go to a restroom, grab a fresh toilet seat cover from the dispenser and rip it up. This is the same material as many of the popular name brand blotting paper on the market.
Expiration Elation – Just like you wouldn't eat food past the expiration date, don't apply something to your eyes, lips or entire face that is past its "best used by" date. Pay close attention to expiration dates on the makeup you purchase. There is typically a symbol on the container letting you how many months your product is good for after opening.
Really good makeup is like applying self-confidence directly to the face. So take the time to learn all the do's and don't's of makeup and the techniques that go with it.  If you're intrigued by the things that go into helping people put their most beautiful face forward, check out Boca Beauty Academy to learn more about a career in the growing esthetics and cosmetology industry. With experienced instructors and two campus locations, Boca Beauty Academy is helping students blaze beautiful trails in the beauty industry. Call Boca Beauty Academy today and join in on the adventure of transforming lives, one beautiful face at a time!