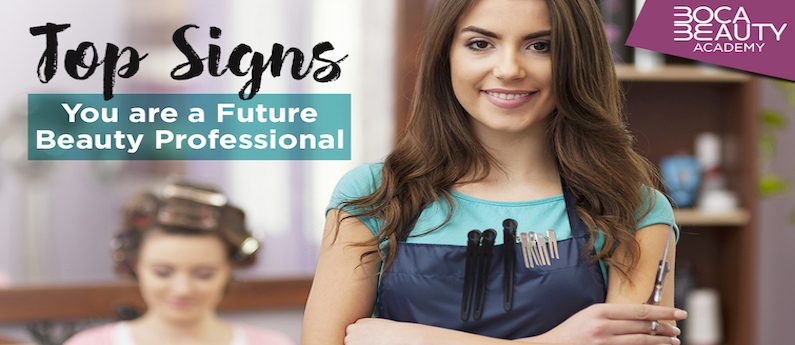 Transforming a person's hair, skin or nails as the case may be, is a powerful tool in the hands of a skilled beauty professional and can change someone's day and even their life! Have you often wondered if you've got what takes to join the ranks of men and women working in the exciting world of beauty? Here are some of the signs that you might be perfect for a career as a beauty professional.
As a child, your Barbie dolls had more style than your older sister because of the haircuts you gave them.
You took the phrase, "beauty is only skin deep" literally and beefed up your skin care regimen.
Friends seek your advice more often on hair products than their love life.
You see bushy eyebrows and immediately start "shaping" them in your mind.
By the age of 10, you already knew what a keratin treatment was.
People love to tell you all their problems because you are a great listener.
You are apt to change your hairstyle on a weekly and sometimes daily basis.
In high school, you single handedly did 12 of your closest friends hair for prom.
You own more blow dryers, flat irons and curling irons than you do shoes.
Your idea of a big night out is actually a big night in giving all of your friends a facial.
It takes a special person to make a career out of turning people's imperfections into their biggest asset with the flip of a brush or the stroke of a makeup brush! The beauty industry has so many options to choose from and the rewards are plentiful. Boca Beauty Academy is helping students chase their dreams of an exciting career making the rest of us look good. With hands-on training from experienced instructors and flexible schedules, Boca can help you make your mark in the beauty industry too! Whether you are interested in cosmetology, esthetics or nail technology, contact Boca Beauty Academy today to learn more or to schedule a tour of our campus. Remember, "the future belongs to those who believe in the beauty of their dreams," Eleanor Roosevelt.   Start believing and call Boca today!