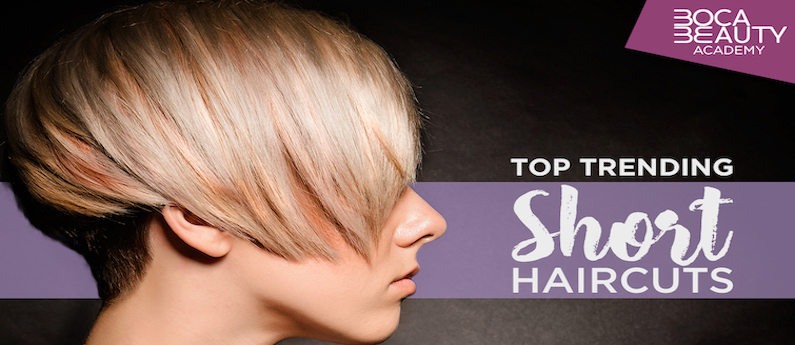 French Vogue editor Joan Juliet Buck said about short hair, "Short hair removes obvious femininity and replaces it with style." Consider that for some women, choosing to switch from long or even medium length tresses to closely cropped locks is not just a haircut but a major life event! It can transform the way people see you. Check out five of the latest styles trending for those looking to downsize their do's!
1. Sculpted pixie-cut – The traditional, face-framing pixie cut with a slight variation of gradually longer hair around the face. This cut is perfect for someone with a thicker texture to their hair and an oval or round shaped face. This cut can be elegant or boardroom ready with the right application of product to add or decrease volume.
2. Undercut bob – If your hair is very fine and you have a more elongated face, this style is ideal! With very short hair at the nape and tapered sides that rest just at the jawline, this cut achieves marvelous volume at the crown. Be prepared to get regular trims as this cut loses its shape quickly.
3. Rocker bob – Think rock and roll with a classic twist. This essentially wash and go cut is perfect for curly or wavy hair and includes a thick fringe of loosely cut bangs. As any one blessed with natural waves knows, product is critical to keep a frizz-free look.
4. Textured lob – The popularity of the "Lob" or long bob, has not diminished and this cut, is particularly versatile. With the help of a good flat or curing iron, you can sport this not quite shoulder-length cut with a wavy, beachy feel or sleek and straight for a fabulous face framing finish. Product is important to manage this style too and to protect your hair from the damage those hot styling tools can do.
5. Micro-bob – Shorter than a classic bob but longer than the pixie cut, the micro-bob has the same structure of the bob but is just short enough to pull off edgy or polished depending on your mood. This cut is great for fine or thick hair but is not ideal for curly hair. Add in a neatly trimmed fringe of bangs and you have a cute and sassy look that is fairly low maintenance.
Coco Chanel said once that a woman about to cut her hair is about to change her life! So if you're someone who enjoys change, don't be afraid to start on top of your head with a style transforming cut that shows your fearless side! Are you one of the fearless and stylish who dream of making a living out of styling the rest of us? Maybe a career in the exciting world of beauty is right for you! At Boca Beauty Academy, students are getting hands-on training in cosmetology from experienced instructors with real world knowledge and skills! Call Boca Beauty Academy now to learn more about the cosmetology program or to schedule a tour of our campus. Don't wait another minute to transform your life. Contact Boca today!