Are you considering a career in the beauty industry? You may be interested in professional makeup artistry, hair design, massage therapy, or barbering, but don't know where to start. At Boca Beauty Academy, passionate beauty students are given the opportunity to learn from skilled instructors and work hands-on at our campus salons and spas. Students in one of our 13 accredited programs are given the opportunity to provide services to real clientele, as well as work in a traditional classroom setting.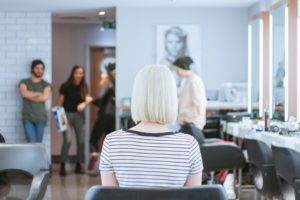 Get Into a Professional Salon/Spa Setting Right Away
At Boca Beauty, you don't have to wait to feel like you're a part of the beauty or wellness industry. Our programs are taught hands-on in our specialized salon and spa teaching environments.
When you're on one of our two campuses, you're immersed in a professional beauty and spa environment from the very start. Enter the professional world with confidence after gaining so much hands-on salon/spa experience before you graduate. We also encourage students to be creative with each other, using teamwork and collaboration to practice their skills.
All of our programs begin on a monthly basis. As many students are employed or have important priorities outside of school, we provide flexible hours that enable you to complete your program on a full-time or part-time basis, including evening classes.
Ask Us About Scholarship Opportunities
We offer a variety of scholarships to students who qualify. If you receive a scholarship, you will feel at ease knowing that a portion of your tuition and fees are covered. Many of our scholarship opportunities require minimal effort and can provide you with funding quickly and easily.
Join Our Unmatched Student Culture
While it's important to master your skills and hone in on your craft, it's also important to us here at Boca Beauty Academy that our students look forward to learning and coming to campus. That's why our curriculum includes interactive fun-first events, like on-campus fashion shows that feature student work, and weekly summer social hours that involve complimentary treats and surprises.
Our instructors are skilled at creating a learning environment that is both thorough and engaging. So, when you're here, you can enjoy putting in the work to jump-start your dream career.
Learn more about each program below:
Ready to start your journey with us? Fill out the form on this page to receive more information. Our friendly and knowledgeable admissions representatives are happy to answer any questions you have and can help with everything from courses to financial aid.
For immediate questions, call our Boca Raton campus 561-487-1191 or Parkland campus 954-866-1011