Wedding season is upon us, and whether it's a public figure or one of your good friends, we're sure you've seen some postponed ceremonies here and there in recent years. Weddings in 2022, however, are back in full force, and we've rounded up the season's top beauty trends for future beauty professionals and brides-to-be.
Overall, bridal looks this year are leaning more towards the "soft glam" makeup style, and wispy, tousled hair. It's out with heavy contour and tight curls, and in with the easygoing, natural bride.
1. Dewy, Glowy, Luminous Skin
Dewy skin starts with a good skincare routine using products that include healthy, natural ingredients. In the days and weeks leading up to your big day, it may benefit your skin to seek out certain treatments to ensure your skin has been given a total reboot and can work as a clean canvas for makeup. We've gathered some healthy skin practices here.
Dewy, luminous makeup looks often include a hydrating primer, a light, thin layer of lightweight foundation, and, of course, a highlighter. For the best results, a cream or balm highlighter is recommended. It's also a good idea to use a cream or liquid blush, contour, and eyeshadow for an even better dewy look.
2. Effortless, Tousled Hair
Less is officially more. The worn-in bun and wispy ponytail have entered the bridal scene and they're here to stay. "Brides are loving the tousled updo as it's so romantic and soft looking, which really fits in line with many bridal gowns." Danielle Priano.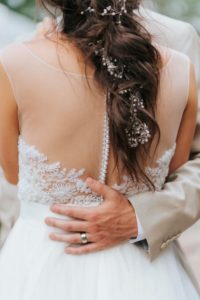 3. Earth-Toned Smokey Eye
Recently, more natural, earthy tones have dominated the makeup looks of brides. The smokey eye look gives brides the dramatic, romantic look they need, while the lighter earth tones balance out the look for a subtle, effortless effect.
Mastering the art of the smokey eye is one of the many makeup skills our students learn in the Makeup and Skincare program.
4. Full, But Natural-Looking Lashes
The big, dramatic fake lash look is no longer. More natural lashes, and even partial lashes, come off as more romantic and flawless. "Most brides want their eyes to pop, but not be overdone, so makeup artists usually go for a lash style that is timeless and accentuates the natural shape of their eye," Taylor Murphy, a beauty retail education manager, says.
The ideal lengths Murphy suggests are ½ or ¾, which create a soft, elegant look and flatter every eye shape.
If you're interested in pursuing a career in the makeup and beauty industry, then bridal makeup trends are important to stay up to date with. Bridal makeup artistry and bridal hair styling are top jobs for beauty professionals.
Not only will you learn makeup and skin care techniques in the classroom through our Makeup and Skin Care program at Boca Beauty Academy, but you'll also gain real-world experience working with actual clients in our on-site salon. You will also perform complete facials and skin treatments in our on-site student salon.
Similarly, if you're interested in our Master Hair Design program, you will work with real clientele in our on-site student salon and will use world-class product brands such as Matrix and OPI.
To learn more about how you can start your professional beauty career, take our Beauty & Wellness Career Training Readiness Quiz here. 
Is a Beauty Career Right For You?
If you're interested in learning more about a beauty career and exploring whether Boca Beauty Academy is right for you, fill out the form on this page to receive more information.
For immediate questions, call our Boca Raton campus 561-487-1191 or Parkland campus 954-866-1011